Clinch Valley Community Action has been located in Tazewell County since 1965.  But our programs and services have extended even beyond those borders as we continue our legacy of helping people help themselves.  Our dedicated employees work diligently to ensure not only that CVCA's services are delivered, but that our community is a better place to live.  Explore our website to see what is available, but more importantly, call or visit with our people so we can help you succeed in your future.
CVCA Events and Happenings
Drug and Alcohol Screening Services
CVCA has trained staff that can provide Pre-employment, Random, Post-Accident, and Reasonable Cause screenings at your business or at our office.
Project Discovery Applications
Accepting New Senior Companions
"I am needed and I help my clients stay independent in their home…where they want to stay" — This is often said by volunteer companions with the Senior Companion Program.
Good news for Blackjewel Miners in Tazewell County
Clinch Valley Community Acton, Inc. in Tazewell will be receiving a special appropriation of funding through Tazewell County Board of Supervisors to assist the laid off Blackjewel Miners. The special funding was made possible through action  of the Board of Supervisors that in the event the County residents are victims of violations of the Worker Adjustment and Retraining Act ("WARN") and thereby lose their employment prior to the notice required by the Act, that the Board will fund, to the extent the Board finds funds available for such purpose, supplemental public benefits for such residents.  Clinch Valley Community Action will have staff at the Appalachian One Stop Workforce Center 1928 Front Street, Richlands, VA starting Monday, August 12th, Tuesday, August 13th and Wednesday, August 14th from 10:30 a.m. to 3:00 p.m. to take applications and gather information. All Blackjewel Miners must provide proof of being laid off from Blackjewel Mining during this period and proof of being a resident of Tazewell County. With this funding, we will be able to assist with utilities, clothing vouchers, and gas card. This is ONLY for the Blackjewel Miners affected with the resent lay off.  You must complete paper work to receive assistance. 
Secondly, Clinch Valley Community Action, Inc. will be receiving  a special grant through the Thompson Charitable  Foundation to assist the Blackjewel Miners with a one-time stipend to be used as they deem fit.  In order to be eligible for this you must be a Blackjewel Miner and laid off during the same time and proof of resident of Tazewell County. This will be first come first serve basis.  Clinch Valley Community Action will have staff at the Appalachian One Stop Workforce Center 1928 Front Street, Richlands, VA. Starting Monday, August 12h,13th and 14th from 10:00 a.m. to 3:00 p.m. to take applications and gather information.
This information be made available at Delegate Will Moorefield's picnic  for the Blackjewel Miners at Tazewell Lincolnshire Park Saturday, August 10th.
Clinch Valley Community Action Receives Award
For Immediate Release
October 23, 2019
Innovative Program Award for Tax Program
North Tazewell, VA—October 23, 2019—The Volunteer Income Tax Assistance program at Clinch Valley Community Action recently received the Innovative Program award. This award was presented at the 2019 Common Cents Conference, held in Fairfax, VA, on September 17-18, 2019. The conference is designed to address unique financial issues and programs in Maryland, DC, and Virginia. This conference gives attendees an opportunity to learn about the financial problems facing residents and innovative program models to help residents achieve all their financial dreams. This conference is presented as a collaboration between the CASH Campaign of Maryland and the Virginia CASH Campaign. CASH is an acronym for Creating Assets Savings and Hope.
According to Carolyn Spohrer, Deputy Director for the Virginia CASH Campaign, "The Innovative Program award was presented to Clinch Valley Community Action for showing creativity and initiative in providing a program or service to a local community that helps build residents' financial stability above and beyond the organization's core services and programs. Clinch Valley has incorporated the Volunteer Income Tax Assistance program into their other programs and has increased services every year. They collaborate with other community partners and continue to "tweak" the program to meet community needs." She adds, "I was proud to award Clinch Valley Community Action the Innovative Program award and present the award to VITA Director, Rick Mallory, at the Common Cents Conference.
The VITA program at Clinch Valley Community Action was able to successfully complete and file 626 Federal tax returns for the 2019 tax filing season, resulting in $825,445 in total Federal refunds. All returns prepared through VITA are completed at no cost to the client.The program will continue to strive for excellence as the 2020 tax filing season approaches. CVCA will begin accepting appoints for tax preparation around the middle of January 2020.
For more information, press only:
Rick Mallory
276-988-5583, ext. 214
rmallory@clinchvalleycaa.org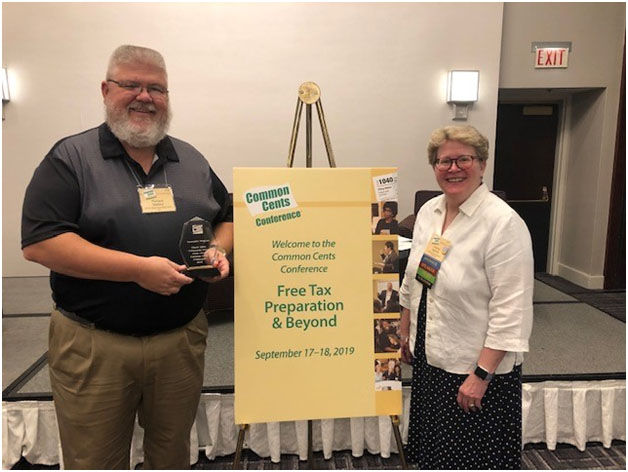 Rick Mallory, CVCA, Carolyn Spohrer, VA CASH Campaign