Clinch Valley Community Action has been located in Tazewell County since 1965.  But our programs and services have extended even beyond those borders as we continue our legacy of helping people help themselves.  Our dedicated employees work diligently to ensure not only that CVCA's services are delivered, but that our community is a better place to live.  Explore our website to see what is available, but more importantly, call or visit with our people so we can help you succeed in your future.
CVCA Events and Happenings
Family Crisis Services 19th Annual Golf Tournament
CLINCH VALLEY
COMMUNITY ACTION, INC.
FAMILY CRISIS SERVICES
19th ANNUAL GOLF TOURNAMENT
At
Fincastle on the Mountain Country Club
Bluefield, Virginia
 June 28, 2019
SHOTGUN START – 9:00 AM
 COMPLIMENTARY LUNCH SERVED FOLLOWING THE TOURNAMENT.
Win a 2019 Ford Fusion with a Hole in One!!! Sponsored by Ramey FORD Princeton.
GOLFRegistration2019GOLFRegistration2019
Applications being accepted for Camp Joy Summer Camps
Discover the Joy in Camp Joy
Camp Joy will have four weeks of camp planned for this year.  Overnight Camp for children ages 6-12 will be held the weeks of June 30 – July 4 and July 7-11.  Day Camp will be held for ages 6-12 on July 15-19.  The week of the Senior Overnight Camp for ages 12-16 will be held on July 21-26. For more information CLICK HERE.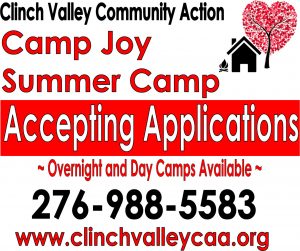 Project Discovery Applications