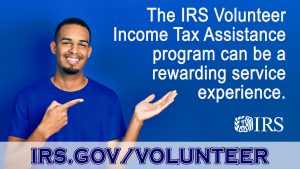 Volunteers are needed to provide VITA services!
Call 276-988-5583, ext. 214
Volunteer Income Tax Assistance Program
Clinch Valley Community Action participates in the Volunteer Income Tax Assistance program (VITA), which is sponsored by the Internal Revenue Service. All volunteers are IRS certified. If you live in Tazewell County or any of the surrounding communities, you may qualify for this free service. We will electronically file your Federal and state tax returns for you. We offer preparation for other states, as well.
Total household income must be no more than $60,000. When the program is in operation January through mid-April, customers are asked to make an appointment and to bring the following documents:
Valid photo ID for you (and your spouse, if married filing joint).
Social Security cards for you, your spouse, and all dependents being claimed on the return.
All financial documents (W2, 1099, and any other documentation regarding your income).
Any other documents required to prepare your return. For instance, if you have insurance through the Affordable Care Act, we will need the 1095-A to complete the return.
Direct Deposit information (a copy of a check).
For those who feel confident preparing their own tax returns, the United Way of Southwest Virginia offers myfreetaxes.com. To qualify for this free service, your household income must be less than $73,000.
We thank the Virginia CASH Campaign, and the Southwest Virginia VITA Coalition for their generous financial support.