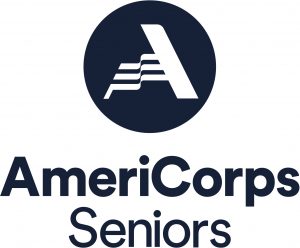 Senior Companions are low-income volunteers, age 55+ who serve a minimum of 15 hours per week providing on-going support services to adults, especially older adults who are home bound. Services provided by Senior Companions include daily tasks such as companionship-talking and listening, transportation, peer- counselling, grocery shopping, meal preparation and light housekeeping.
The Corporation for National and Community Service is the federal funding source of this program and locally the program is supported by the Tazewell County Board of Supervisors.  The Senior Companion Program also is blessed to receive a variety of in-kind recognition items and volunteer meals from Christian Appalachian Project, Labor of Love Mission and Loyal Order of the Moose Tazewell Lodge #198.
The SENIOR COMPANION PROGRAM is very proud of its companions and the vital service they provide. Last year (July-June), 28 Senior Companions provided 41,272 hours of service to 99 frail and elderly senior and adult disabled citizens.  These hours represented $1,076,786 (2016 Virginia Volunteer Value Rate) in volunteer service to our citizens and communities.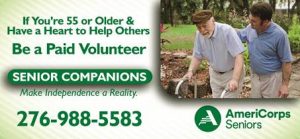 Benefits of being a Senior Companion include:
A non taxable stipend of $4.00 per hour which does not affect SSI, disability or other similar programs.
Mileage paid to and from the work site within a 10 mile radius.
On duty supplemental insurance.
12 days personal leave a year and up to 14 paid holidays.
Compensated while receiving 40 hours of training.
Four hours of paid in-service training will be provided each month.

Senior Companion Program Staff

Sandy Harrison, 276-988-5583, ext 211
Rick Mallory, 276-988-5583, ext 210