Clinch Valley Community Action has been located in Tazewell County for 51 years.  But our programs and services have extended even beyond those borders as we continue our legacy of helping people help themselves.  Our dedicated employees work diligently to ensure not only that CVCA's services are delivered, but that our community is a better place to live.  Visit our website to see what is available, but more importantly, call or visit with our people so we can help you succeed in your future.
CVCA Events and Happenings
CVCA Employment
Project Discovery Applications
April is Sexual Assault Awareness Month
We are busy planning for April as Sexual Assault Awareness Month, and we hope that you will continue to be a part of our activities! If you would like to learn more about any of the projects listed below, please contact us at 276-988-5583 or jbourne@clinchvalleycaa.org.
Hike for Hope
Kick off April by joining us on a six-mile hike at The Channels. Hiking options are available for the beginner and experienced hiker, as well as for children ages 5 and up.  There is not a registration fee, and the first 50 entries will receive a free T-shirt.  (Please note: the attached registration form has the deadline of March 16.  Registrations will be accepted until the day of the hike.) The hike will be held on Saturday, April 1st at 12:00 pm. Shout out to our partners for working with us on this event: Outdoor Adventure Centers, LLC, Cumberland Mountain Community Services, GROW – Tazewell County Health Department, LEAD Tazewell County, Russell County Commonwealth's Attorney's Office, Russell County Victim Witness Assistance Program, Tazewell County Commonwealth's Attorney's Office,Tazewell County Victim Witness Assistance Program, and Tazewell County V-STOP Program.
Turn It Teal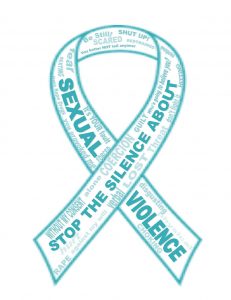 We are encouraging everyone to wear teal on Tuesday, April 4.  Our staff will also be delivering teal ribbons to allied professionals across Tazewell County & Russell County. We would love to take your picture to share on our social mediaJ  If you would like to send a picture to us, please text it to 276-971-6340. Let's show our support of survivors of sexual assault!
#SAAM Documentary
Join us on Wednesday, April 5 at Southwest Virginia Community College for a viewing of the Netflix documentary, Audrie & Daisy. This film tells the story of two teenage girls who pass out while intoxicated at high school parties and, while unconscious, both are sexually assaulted by boys they call friends. In the aftermath, the girls each endure online harassment, both attempt suicide, and tragically, one dies. It explores shame from the perspective of the teenagers and their families — including the boys involved in the assaults and the girls willing to speak out publicly. Staff members will be available to speak with participants before, during & after the viewing.  Panel discussion will immediately follow.   
King Community Center Conference Room 12:10 P.M.
Paintin' on the Patio
We are hosting a paint night at Fisher & Company on Thursday, April 6 from 6-8pm. Paint a beautiful canvas, enjoy delicious cookies, and show your support for happy, healthy & safe relationships. Ages 10 & up are welcome. Space is limited; please register by March 31. Beth Elswick will be our instructor. The registration fee is $40.00. Proceeds support our work to eliminate domestic violence & sexual assault. To register, please reply to this email or call 988-5583. #paintinonthepatio #canvasandcookies
Wear BLUE Day
April is also Child Abuse Prevention Month.  Join Clinch Valley Community Action, Tazewell Police Department and Tazewell County Department of Social Services in preventing child abuse and supporting strong families and healthy children. On April 7, Wear BLUE – to work, to school, a community event, the gym, even at home.  Invite your friends, family, students, co-workers or even your entire office to Wear BLUE too! It doesn't matter if it's a blue shirt or blue suede shoes, the unified, community-wide act of wearing blue will help raise awareness that child abuse is preventable! Take a picture of yourself, your group, class, or office wearing blue and text it to 276-971-6340 for us to share on our social media. #GOBLUE  #PCAV
Walk a Mile in Her Shoes® Tazewell & Lebanon
The Third Annual CVCA-FCS Walk a Mile in Her Shoes® in Tazewell is Sunday, April 9 at 4pm.  108 men from across Tazewell County have signed up to walk & bring a minimum donation of $100.  Our goal this year is $20,000!!! Join us at the Track at Tazewell Elementary School to show your support & cheer these guys on!!!
Walk a Mile in Her Shoes® Tazewell & Lebanon
The First Annual CVCA-FCS Walk a Mile In Her Shoes® in Lebanon is Sunday, April 30 at 4pm.  37 men from across Russell County have signed up to walk & bring a minimum donation of $100.  Our goal is $5,000!!! Join us at the Park across for the Lebanon Police Department to show your support & cheer these guys on!!!
#coffeeandconsent
Join us on Thursday, April 13, 2017 from 11:00 A.M. – 2:00 P.M. at Restore Community Coffee located at 29 North Church Street in Lebanon. Learn more about April as Sexual Assault Awareness Month and consent.
What is consent exactly?  
Who can give consent?   
Who can't?   
How do you know if you have it?
Enjoy delicious teal treats! A portion of the sales will be donated to support our work to eliminate violence in Russell County.
#SurvivorLoveLetter
Stop by our Main Office in Tazewell, or our Satellite Office in Lebanon, on Wednesday, April 19 from 10am-4pm to create a positive, upbeat & supportive note for a survivor of sexual assault.  We will provide paper, pens, markers & other art supplies.  Your note will be anonymous.  This letter-writing activity is part of a national campaign to show support for survivors.  Our goal is 25 letters….we will take pictures of each letter and upload them to our social media. We will also post the notes in the shelter & in our offices to inspire our clients! To learn more about the project, please Google #survivorloveletter.
Open House – Lebanon
Visit our Satellite Office in Lebanon on Thursday, April 20 from 11:30am-1:30pm. A light lunch will be provided and staff will be available to answer questions
about our program. R.S.V.P. by Monday, April 17 to Rhyli Drake at 276-889-8206 or to rdrake@clinchvalleycaa.org. Parking is available directly in front of the office. We are located in The Castle Building at 547 West Main Street (next door to the DMV).
Denim Day
Looking for an easy way to recognize & support Sexual Assault Awareness Month?  Ask your workplace to participate in Denim Day on Wednesday, April 26!!! Have your coworkers pay $5.00 to wear jeans on Denim Day & donate the proceeds to CVCA-FCS! (In 1999, an Italian High Court overturns a rape conviction declaring that because the victim wore very tight jeans, she had to help him remove them, and by removing the jeans, it was no longer rape but consensual sex.  This became known throughout Italy as the "jeans alibi." Enraged by the verdict, women in the Italian Parliament protested the ruling by wearing jeans on the steps of Parliament.  As news of this decision spread, so did the protest. Los Angeles joined in and a campaign was born.  Denim Day is organized by Peace Over Violence.
As always, thank you for your support and your commitment to eliminating domestic violence & sexual assault in our community.
Family Crisis Services Needs Volunteers
Family Crisis Services, a joint domestic violence and sexual assault program of Clinch Valley Community Action, Inc., seeks energetic, dependable and self-motivated individuals to work as Volunteer Advocates.  Volunteers are needed to provide shelter coverage, to answer the hotline, to provide child care and emergency transportation, to provide office support, to assist with public awareness and fundraisers, and to serve as court advocates.
Volunteer Advocates provide companionship, a friendly face, and a listening ear to victims and their families. This job requires a great deal of tact, empathy, understanding and emotional maturity.  Volunteers should also respect confidentiality, display a responsible work ethic and work well with people.
For more information, please call Jennifer Bourne at (276) 988-5583.
Soar Virginia Scholarship Program
Virginia529 College Savings Plan (Virginia529) has expanded its scholarship program for high school students in a new partnership with Project Discovery of Virginia, Inc. (Project Discovery). The expansion adds 10 districts to the 38 currently participating.
Accepting New Senior Companions
"I am needed and I help my clients stay independent in their home…where they want to stay" — This is often said by volunteer companions with the Senior Companion Program.